When my mom found out that she was going to be a grandmother for the first time, she was so excited she told everyone she knew. Her friends came over and dropped off gifts for the new grandchild months before the baby was even due. One memorable gift was a basket of items that contained both adorable baby items and gifts to celebrate Grandma. You can easily put together a custom gift basket for new grandparents with any of these thoughtful and practical items.
Memory Book/Interview Journal from Grandma to Grandchildren
This keepsake memory book from grandma is a precious gift basket addition that allows Grandma to share her life and memories with her grandkids. What was the first house she remembers living in? How did her parents meet, and where did they grow up? What does she remember about her own grandparents? A great keepsake to have in your family for generations to come, the book contains easy prompts that will get all of Grandma's good memories flowing and spark wonderful conversations with her. You can even get a pair of books for both Grandma and Grandpa.
Grandma and Grandpa Photo Frames
Grandparents love these photo frames. They are a lovely way for a new grandmother to show off photos of her new grandchildren. Perfect for new or experienced grandmothers, these frames highlight the special bond between a grandma and her grandkids and would be a thoughtful addition to any gift basket for Grandma.
First 12 Months Photo Frame
A beloved gift for first time grandmothers, these First 12 Months photo frames allow Grandma to remember every month of the first 12 months of her new grandchild's life. The first 12 months are a time of amazing change and development, so being able to document that stage in this beautiful frame is a gift that a new grandma will treasure. They are a beautiful addition to any gift basket that will immediately bring joy to the new grandma.
Footprint or Handprint and Photo Frame
This cute photo frame is a great way for a new grandmother to display a photo of her new grandchild along with an adorable little handprint and footprint. This is a wonderful and thoughtful gift to add to a new grandmother's gift basket that will certainly make her smile. Getting the baby to sit still long enough to get the handprint and footprint will be a fun challenge too.
Children's Story Book: Grandma and Me
There are a few adorable books for toddlers that are meant to be read with their grandmothers, highlighting the special bond between them. Toddlers absolutely love these, and grandmas love them too! These books would be thoughtful and frequently used additions to a gift basket for a new grandma.
I Love Grandma & Grandpa Onesie
I know at least one Grandma and Grandpa who loved it when they saw their little grandson in this adorable onesie. It's very affordable, good quality, and 100% cotton. In those first few months, they are only wearing these cite little body suits and this is great for layering or wearing on its own. It's also a great pregnancy announcement gift for the grandparents, who will be so proud to see their new grandchild sporting this comfortable little outfit.
Grandmother Jewelry
Jewelry for grandmothers does not have to be expensive or over the top; it's the thought that counts. My mother already has a lot of nice jewelry and does not need more of the same.  But she loves receiving jewelry from her grandkids that conveys a sweet message and is easy to wear with casual outfits. It's especially touching when the grandkids save their own money and buy a bracelet or necklace for grandma on their own. There are many affordable Grandma-specific jewelry options online.
Grandma Superpower Mug
This is a great series of mugs that are colorful, fun, and lightweight. New grandmas are so proud and excited to use this mug and share the latest news of their grandchild.
If you like this sense of humor, there are plenty of colorful mugs and wineglasses that celebrate how fabulous grandma is.
Chef Grandma's Cutting Board
For grandmas who love to cook and share food with their families, let them show off their chef skills with this beautiful wood cutting board for the kitchen. Grandmothers often pride themselves on being the providers for their children and families, and cooking is an important way of showing their love. This honors grandma's kitchen as a special family gathering place.
World's Best Grandparents Coffee Mug
You can't go wrong complimenting the new grandparents. They will love showing off their new mug followed by the latest pictures of the new grandkid. Grandparents who love to travel to sunny destinations will especially appreciate this tropical beach coffee mug in their gift baskets.
"This Grandma is Fabulous" Wine Glass
Grandmothers with a sense of fun and humor will love this fun hand-painted wine glass. The colorful decor and festive spirit will make it an easy glass to use all the time. This is a favorite of new grandmas and an inexpensive gift that will be appreciated for a long time.
Tote Bag with Baby's Name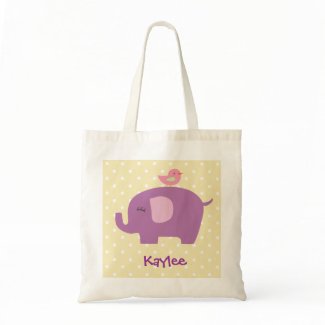 If you know what the baby's name is or is going to be, these custom tote bags are a cute and practical gift for a new grandmother. They can be customized with the child's name or simply a word like "Grandma" or "Nana" and are a thoughtful highlight to a new grandmother's gift basket.
Baby Blanket with Baby's Name
Another great gift basket addition is this custom baby blanket that features the baby's name. New grandmas will love the adorable design and softness of the blanket. These are an adorable gift to roll up and include in a gift basket. If you don't know the baby's name or gender yet, you could also include a super-soft and snuggly baby blanket with an adorable pattern for a boy or a girl.
Willow Tree Figurines
I see these everywhere. They are so popular. Willow Tree figurines are beloved hand-crafted wooden sculptures, especially the Willow Tree grandmother figurine which depicts a tender moment between the new grandma and her grandchild. This is a perfect addition to the gift basket of a sentimental new grandmother.
Baby Bath Wrap
These adorable critter bath time baby wraps are soft and warm for the little ones. Grandma will love seeing her new grandchild bundled up in this cozy towel after bath time. This a great gift for first time parents as well. These towels are a great addition to a gift basket and come in a variety of cute animal shapes such as lions, elephants, sharks, frogs, bears, ducks, and rabbits.
Baby Playmat
Playmats are a must for new grandparents, especially if the new grandchild will be spending any time at Grandma's house. The parents will not want to have to pack up their playmat at home every time they come over to visit, so it's best if Grandma has one at her home too. These are colorful and well-padded mats for infants to play on. Best of all, Grandma can roll it up and store it away easily when the baby goes home. This is a practical addition to a new grandparents' gift basket that will get a lot of use.
Custom Photo iPhone Case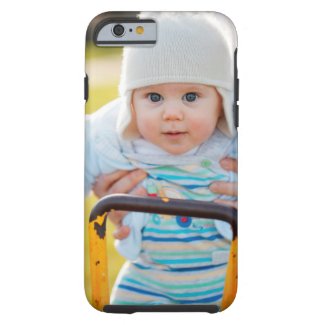 First time grandmothers love being able to share photos of their new grandbabies, and they love these custom iPhone cases that show off those photos. I've seen so many older people walking around with these! You can even get one that says "I love you, Grandma" or "World's Best Grandma" printed on it along with the photo.
Photo Locket Necklace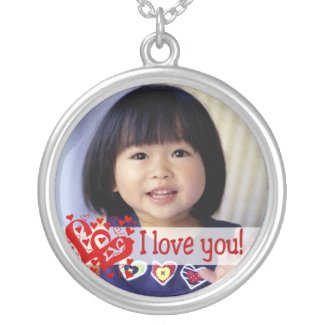 A locket necklace could be a wonderful "homemade" keepsake for a new grandma. These silver plated lockets have panels that slide open and shut to keep the photo concealed like a traditional locket, or you can opt for one with the photo on display all the time.
Professional Gift Basket
If you are making the gift basket from scratch, start out with an elegant basket and some cellophane wrapping to give the new grandma a truly professional looking gift. Presentation is everything, and you don't want all of your amazing grandma gift items to be overshadowed by an ugly basket.
 Baby Toy Bestsellers
In addition to gifts for the new grandma, the gift basket could also include a few fun items for the new baby. Because the most popular baby toys and helpful baby gear are constantly changing, it's hard for people who are not new parents to know what the latest and greatest products are. But don't worry! It's very easy to check out Amazon's list of bestselling baby gifts. You can't go wrong picking a bestseller from this list of "most popular baby gifts," which is updated hourly.
Personalized Photo Calendar or DIY Photo Book
Most grandmothers still use physical calendars, and it's very easy to use services like Shutterfly, CVS Photo, Walgreens Photo, or Costco to make photo calendars for them for a personalized birthday gift. This easy but meaningful DIY project could even turn into a recurring gift that you give once a year with new updated photos. This is also a perfect birthday gift for grandma from tech savvy teens or kids.
We'd recommend Shutterfly as a very straightforward and reasonably priced option for photo calendars.
Continuing with the photos theme, you can never go wrong with gifting a photo book to grandparents. Instead of a standard photo album, step it a up a notch and design a professional-looking DIY photo book online. It's an easy and affordable birthday gift for Grandma that grandkids, especially teens, can put together on their own. Services like MyPublisher, Kolo, Mixbook, and Blurb will produce professional quality higher-end books, while Costco, Snapfish, Shutterfly, CVS, and Walgreens are perfect for more affordable everyday photo books.
Family Photos Printed on Wood
If Grandma or Grandpa already has everything including standard framed photos of the grandkids, consider getting them these Instagram-like photos printed on wood. Creative and fun, these are beautiful, high-quality birthday gifts for Grandma or Grandpa from kids or adults that you can easily order in a number of sizes and shapes for hanging on the wall or displaying on a table. This is perfect for grandparents who have everything and don't want anything. Best of all, you can use any photo on your phone or in your Instagram or Facebook accounts.
Baby Photo Keepsake Box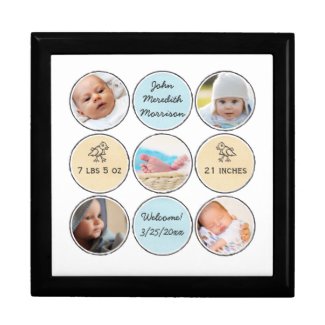 These photo keepsake boxes are the perfect gift for new grandparents to preserve memories of their new grandchildren. They can save everything from photos to records of first footsteps. You can customize the photos, name, and birth details on the cover.
New grandparents will love this cute reminder of their grandkids every time they pick up their keys. This joyful gift takes up barely any space and costs very little but will be put to good use and appreciated every single day.
Photo Christmas Ornament
This is a brilliant and affordable Christmas gift that new grandparents will love and proudly display on their tree. It's inexpensive and takes up very little space but will bring joy to anyone who stops to admire the tree.